The Best Hallway & Entry Furniture
of the Year 2023
Discover the Top-Rated Hallway & Entry Furniture of the Year
Hallway & Entry Furniture provides an essential role in creating the perfect first impression of your home. From coat racks and entryway tables to shoe benches, hall trees and storage cabinets, these pieces help create an organized entrance way that is both stylish and functional. Accent pieces like mirrors, wall art and decorative accents will tie it all together for a warm welcome to all who enter your home. So don't lose out on all the features that Hallway & Entry Furniture can offer.
These are top 10 The best Hallway & Entry Furniture for 2023
1. Console table GERICCO 46
The perfect addition to any home - this console table offers high storage capacity with one spacious shelf and 6 accent drawers, allowing users to store their belongings without accumulating clutter. Combining modern and vintage design through its farmhouse inspired wood frame detailing on the drawers and iron handles for heightened appeal, it is manufactured for quality with thick slabs of Pine and MDF for a solid base. Its eye-catching versatility makes it ideal for entry hallways, dining rooms or bedrooms, while easy assembly ensures that anyone can quickly set it up by following the step by step instructions with tools included. With a table surface weight capacity of 150lbs, shelf weight capacity of 40lbs and accent drawer weight capacity of 17lbs, this console table is the perfect choice.
2. MAHASAMUT - POLAR long bench
The MAHASAMUT - POLAR long bench is a stunning piece of furniture that combines contemporary and sleek design with traditional craftsmanship. Built with solid oak and finished with a white lacquer, this chic piece features clean lines and an eye-catching silhouette. The bench has ample seating space, allowing up to three people to sit comfortably while enjoying the view from its luxurious height. A perfect addition to any room, the MAHASAMUT - POLAR long bench makes for a perfect conversational centerpiece that is both stylish and functional.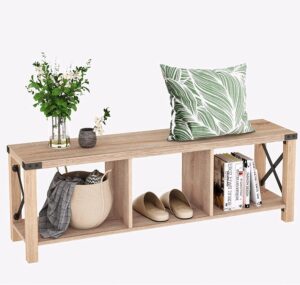 3. Homfa Bench With Storage
The Homfa Bench With Storage is the perfect solution for any home or office. This bench is designed with a huge storage space, making it extremely practical and efficient. Its sleek, modern design makes it look great in any setting, while its sturdy construction ensures that it can withstand years of use. For added convenience, the bench comes with two shelves, allowing you to store items neatly and easily accessible from all angles. Not only this but the bench also provides a comfortable seat for three people for those special occasions or family gatherings.
Find the Perfect Hallway & Entry Furniture for Your Home - Our Top 4-10 Picks Reviewed!
Whether you're looking for a place to hang coats and keys in the entryway, or an elegant console for your hallway, our top 4-10 picks have something to suit every home. From sleek and modern looks, to rustic and traditional styles, you'll find everything you need here. With durable materials like wood, metal and glass, these pieces are made to stand the test of time – so they'll be a part of your home decor for years to come.
4. APINA Hanging Shelf Model H142
The APINA Hanging Shelf Model H142 is an elegant, minimalist design that adds practical storage to any room while making a stylish decor statement. It has a strong metal frame and contemporary white finish that will blend with any decor style. The shelf comes with four hooks on the bottom, allowing you to easily and safely hang items off the sides. Its simple yet stylish lines make it an ideal storage solution for the home or office.
5. LIFESTYLE FURNITURE CRYSTAL BENCH
Spice up your home decor with the stylish CRYSTAL LIFESTYLE bench. Combining a sturdy elm wood frame in Rustic Whitewash finish and a padded seat covered in creamy white fabric with French Vintage style, this piece of furniture can complement any décor. Place it in the living room or dining table, or as an accent at the entrance hall or end of the bed to make your space look more attractive and beautiful.
6. Cabinet Shoe Wooden Table
This Cabinet Shoe Wooden Table is the perfect addition to any traditional or modern home design. Crafted from high-quality wood, this sleek and stylish piece of furniture adds a touch of sophistication to your living space. The cabinet provides plenty of storage space with two drawers and two shelves, while the wooden table offers an elegant surface that can be used for serving drinks or displaying decorative pieces. This timeless combination brings elegance and utility to any room!
7. Rectangular sofa chair
The Rectangular sofa chair is a perfect addition to any living space. It offers a modern, minimalistic silhouette yet provides ample amounts of comfort and support. Crafted from high-quality fabrics, the chair is durable and can be customized in various colors and designs to suit your personal preference. With its inviting look, incomparable comfort, and stylish design, this piece of furniture will surely become a central part of any home.
8. long bench 2 meter long bench
This teak long bench chair is a great addition to your home. With its 2 meter length, it's perfect for sitting, but enough space to accommodate a mattress and use it as a bed if needed. It's big enough to fit multiple people comfortably, and the sturdy legs and beam supports make sure that it can easily bear their weight. And the product size of 8020090 cm will fit perfectly in any room.
9. Chinese cabinet, 1 drawer storage cabinet
This Chinese cabinet is made of wood and exudes strength and durability with a long service life. Decorated with beautiful pumpkin carving patterns, it has been skillfully carved by experienced craftsmen, creating a craftsmanship that is nothing short of exquisite. The surface of the product is further enhanced with handmade reed mats, making it an ideal piece to store your belongings while providing plenty of space on top for additional items as the cabinet can support quite a bit of weight; measuring 74 cm wide, 39 cm deep, and 70 cm high.
10. Long Console Table with 3-tier Storage Shelves
The perfect accent for any hallway or living space is the stylish Long Console Table with 3-Tier Storage Shelves. Featuring three pull-out drawers and one open shelf, its spacious design offers ample storage for books, magazines, and other items you'd like to keep close at hand. The rich finish and sleek lines of this console table will complement any décor. Whether you need additional storage in your entryway or are looking to add a touch of style to your home, this timeless piece is a must have!
What should I pay attention when i want to buying a good Hallway & Entry Furniture?
When shopping for hallway furniture, it is important to consider practicality, style, materials, and size. Look for pieces with ample storage without being too large or overbearing. Pay attention to the quality of the materials; make sure that they are durable and can withstand everyday use. Consider the color and texture of each item so it will suit your space, as well as look attractive for years to come. Finally, measure your space beforehand so that you are sure any piece you buy will fit perfectly.
FAQ About Hallway & Entry Furniture
Our research shows that the following 5 are the best.
Console table GERICCO 46

MAHASAMUT – POLAR long bench

Homfa Bench With Storage

APINA Hanging Shelf Model H142

LIFESTYLE FURNITURE CRYSTAL BENCH
Many types of entryway furniture are available, including console tables, coat racks, benches, shoe racks, and accent pieces.
Organizing your hallway furniture should be done in a way that maximizes functionality and usefulness for the space you have. Consider the amount of space you have and what kind of storage you need when creating an organizational plan.
Final decision when you want to buy a Hallway & Entry Furniture
We are certain that you will find the perfect Hallway & Entry Furniture in this top 10 list! Each of these models comes with amazing features and are designed to keep you comfortable and safe. Thanks for taking a look – we hope it helps!